The 23 Best Ebook Creator Software For 2023
Introduction
You want to get your ebook online, but you don't know what ebook creator software is best for you.
There are many options to look for in an ebook creator tool. The most important question to ask yourself first is: "Why will the reader read my ebook?"
Put on your thinking cap. Keep these questions in mind as you scan the options of popular ebook formats below:
Will you be creating ebooks for your own online ebook store or Amazon Kindle?
Are you seeking to make an ebook interactive for young students or for professionals?
Are you a Mac Apple Pages user or a Microsoft MS Word user?
Would you like an ebook creator on a free account or do you have a budget to pay for a subscription?
Is your ebook creation process in-house or outsourced?
I consider there to be four major phases in creating a product in ebook format.
First, ideation/brainstorming
Second, writing a rough draft
Third, editing/revision
Fourth is compiling/publishing
Some ebook software is good in all four phases. Some are different when it comes to the book formats they will produce.
To solve this problem, we've created a list of the top 23 ebook creator software out there today. When it comes to ebook creator tools, there are quite a few to choose from.
Here I'll give you my rundown of top 23 best ebook creator software programs for 2023.
Best For Ideas, Brainstorming, and New Innovations
Microsoft Word
Word is a word processing program for Microsoft Windows, macOS, and iOS that is used for creating documents.
Word has been a part of Microsoft Office since 1983. As I mentioned before, when I wanted to self-publish, I wrote my first books and ebooks on Word, I didn't have many other options.
It is the most widely used word processor in the world, with estimates of over a billion users worldwide as of 2016.
Vellum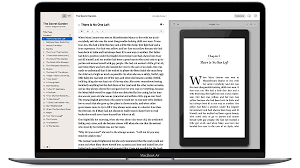 Vellum is a popular ebook creation tool that's used by many authors and publishers. It's free to use, and you can download it from the Mac App Store. For Mac users, this is a very intuitive choice.
This app has a lot of features:
You can write in any font on your computer or import text from other sources. You can also add images or create links between them.
You can export your finished work as PDF or EPUB files (giving it a leg up as an ebook publishing software), both of which are common ebook formats, so they will be readable on all types of devices (except Kindle).
Normally ebook creator tools are not as user-friendly. Vellum does a great job of making it simple.
Best For Creating An Ebook On Large Teams, Collaboration, Editing, and Revision
Google Docs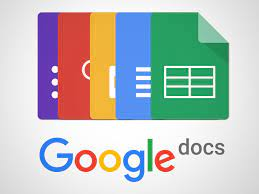 Google Docs is a free, web-based word processor created by Google. If you've ever used Google Drive, then you're familiar with Google Docs. It operates just like a live MS word document.
It's easy to use and very versatile—you can create ebooks in Google Docs by using the Word Processor tool or importing an existing ebook file into the tool.
Keep in mind, Google docs is better as a collaboration ideation tool than a finishing tool.
The main benefit of using Google Drive to create unlimited ebooks, is that it's super simple—no complex software required! More importantly, you can edit live with other people.
It also makes collaborating with others on your project easier than ever before.
Additionally, if you're looking for something more advanced than what Google Drive offers but don't want to spend any money on software like Adobe InDesign or Microsoft Word (or even Scrivener), then this might be right up your alley!
Best ebook creator tools for ebook covers, graphics, and visual appeal
Canva
Canva is one of the best ebook creation software you can use. It's a multi-use online design tool site. They say don't judge an ebook by its cover. Well, a key feature of Canva is making a cover for almost anything. Canva wins in the area of ebook design.
It's a completely free ebook creator tool, and it has many templates that you can use to create your ebook. It will also be great to help you design special formatting for pages if you desire.
If you're looking for a simple way to make an ebook, Canva might be the perfect ebook creator for you. Canva will help you create stunning ebooks!
Amazon Kindle Creators
Amazon Kindle Creators is a web-based ebook creation software that is easy to use and allows you to create an ebook in minutes. It functions with the kindle direct publishing platform.
It has a simple, intuitive interface and allows you to focus on writing your book without worrying about formatting issues or how it will look like when published on Amazon KDP.
The program allows you to add text, images, and other media files so that they appear in the correct place at the end of each page with ease.
You can format your book using tools on the left side of the screen by choosing from different formats such as A4 paper size or US Letter Size Paper Size (8.5 x 11 inches).
After adding content to it, save it as a .mobi file so that you can publish your ebook in Amazon Kindle Store by simply clicking "Publish" button at the top right corner of the main window
iBooks Author
iBooks Author is a Mac app that lets you create interactive ebooks for iPad, iPhone, and iPod touch.
As an ebook creator, it's leveraged by many publishers to create ebooks for the iBookstore.
Best ebook format software for editing, compiling, and publishing
Scrivener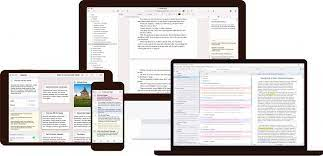 To me, Scrivener is the ultimate ebook creator as far as drafting and editing. I wrote my very first book in 2004 in Microsoft Word. I had to scroll and scroll to edit thumbnail size pages.
Scrivener innovated the organization and writing of a book by creating a folder and file system. This is why I call it the ultimate ebook creator.
It is great to get the bulk of your book done. The last step is to export your ebook.
You can do this by creating a table of contents in Scrivener and then exporting it to epub format. It allows you to compile the end product in manuscript, pdf ebook, mobi for kindle, android, and epub formats for ios mobile devices which you can read in apple books.
If you have any questions about this process, feel free to leave them in the comments section below!
Lucidpress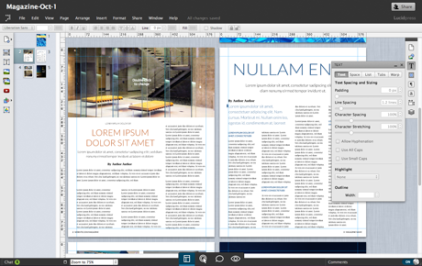 Lucidpress is a cloud-based graphic design software that helps you create ebooks, digital magazines, posters and social media graphics.
Lucidpress has a drag-and-drop interface so you can quickly create beautiful designs without learning code. You can also use Lucidpress to create templates for your ebook and then download them in PDF format or upload them directly to Kindle Direct Publishing (KDP).
Online Convert
OnlineConvert is a free online tool that allows you to create ebooks from various formats.
It supports just about any file format, so it's a great option if you have multiple files to convert at once.
It's also very easy to use and can convert PDF, DOCX/DOC, and RTF files into EPUB format, making it an excellent epub creator.
Jutoh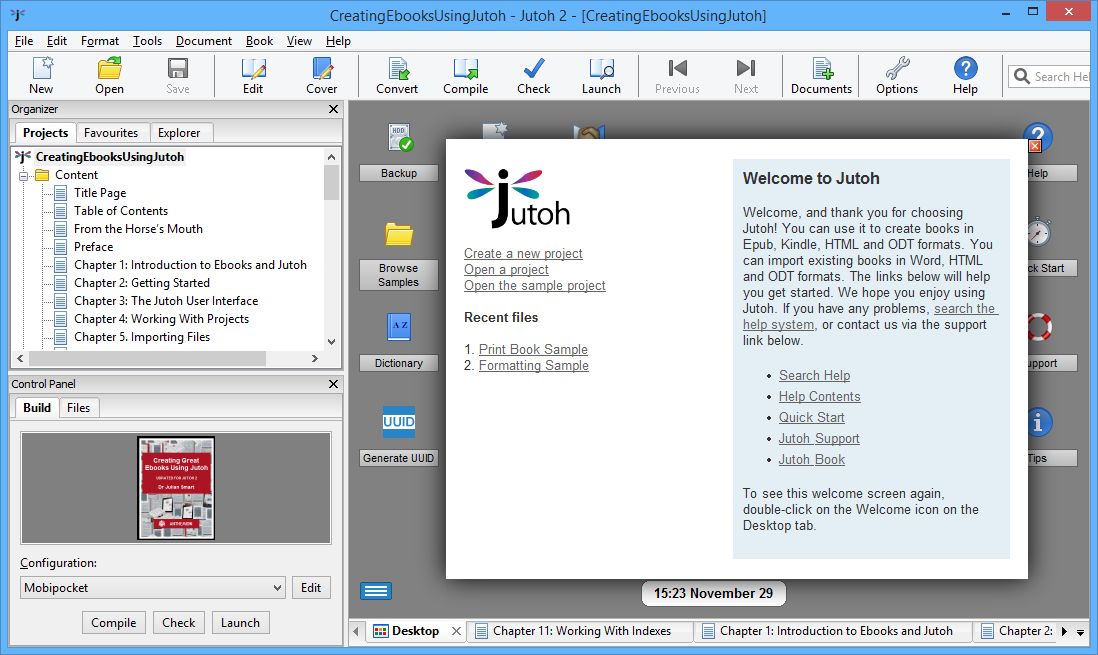 Jutoh is an ebook creation software that you can use to create ebooks in epub and mobi formats. It's a tool for producing ebooks for kindle, nook, and other ebook readers.
It has a simple interface with drag-and-drop features. You can use it on both Mac and Windows computers.
DiggyPOD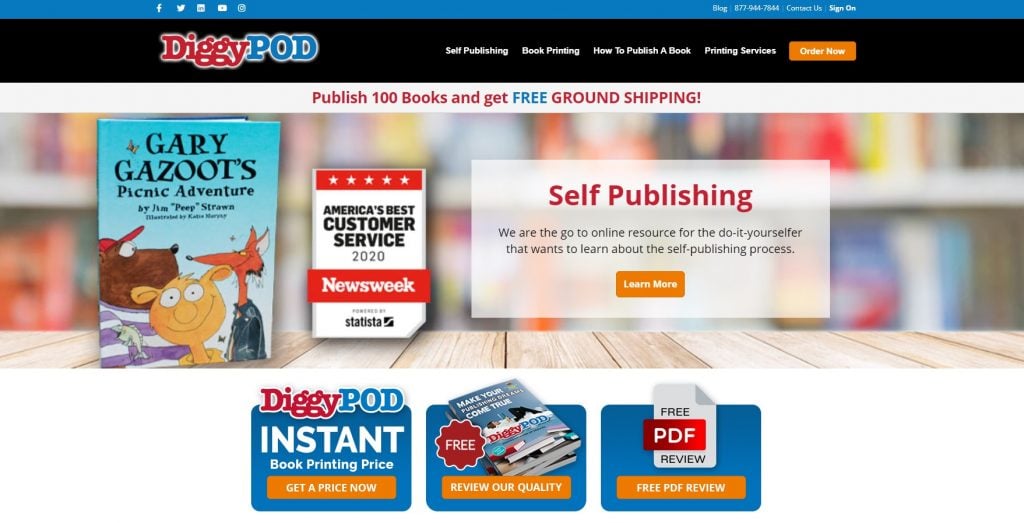 DiggyPOD is a book publishing software that helps you to create print and digital books. It's an easy-to-use ebook creator tool for Mac and Windows users.
You can create and publish your own books in a matter of minutes with DiggyPOD.
The software features an intuitive interface that allows you to easily customize the look of your book cover, add text, images, video clips and audio files like music or narration samples from YouTube videos.
You can also add pre-written chapters/sections from their library or write them yourself directly into the program itself using its built-in word processor feature which comes with spell checker support as well as autoformatting options such as hyphenation or justification options (left justify vs right justify).
Blurb BookWright
Blurb BookWright is a desktop publishing software that helps you design and publish beautiful books.
It's a cloud-based software, so you don't need to install anything on your computer.
With its easy-to-use interface, Blurb BookWright has features like one-click publishing, automated file conversion, and integrated image editing tools.
The website also has plenty of templates for book creation in various genres including cookbooks, children's books, journaling guides and notebooks (among others).
IngramSpark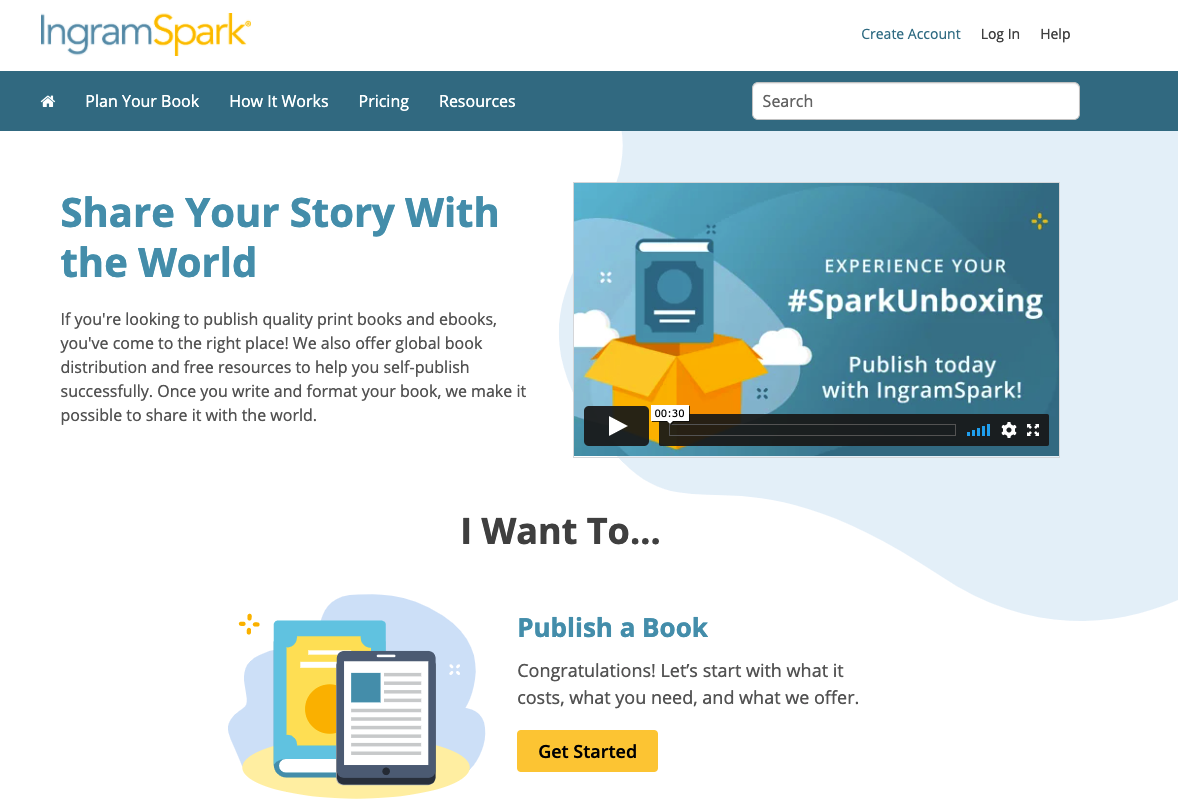 IngramSpark is a print and digital self-publishing company that can help you publish your book as an ebook, create a print-on-demand paperback and even create an audiobook.
IngramSpark's collection includes over 1 million titles from more than 100,000 indie authors.
All of the services they offer are free to use, so there is no financial commitment to IngramSpark other than your time on the platform itself.
Reedsy Book Editor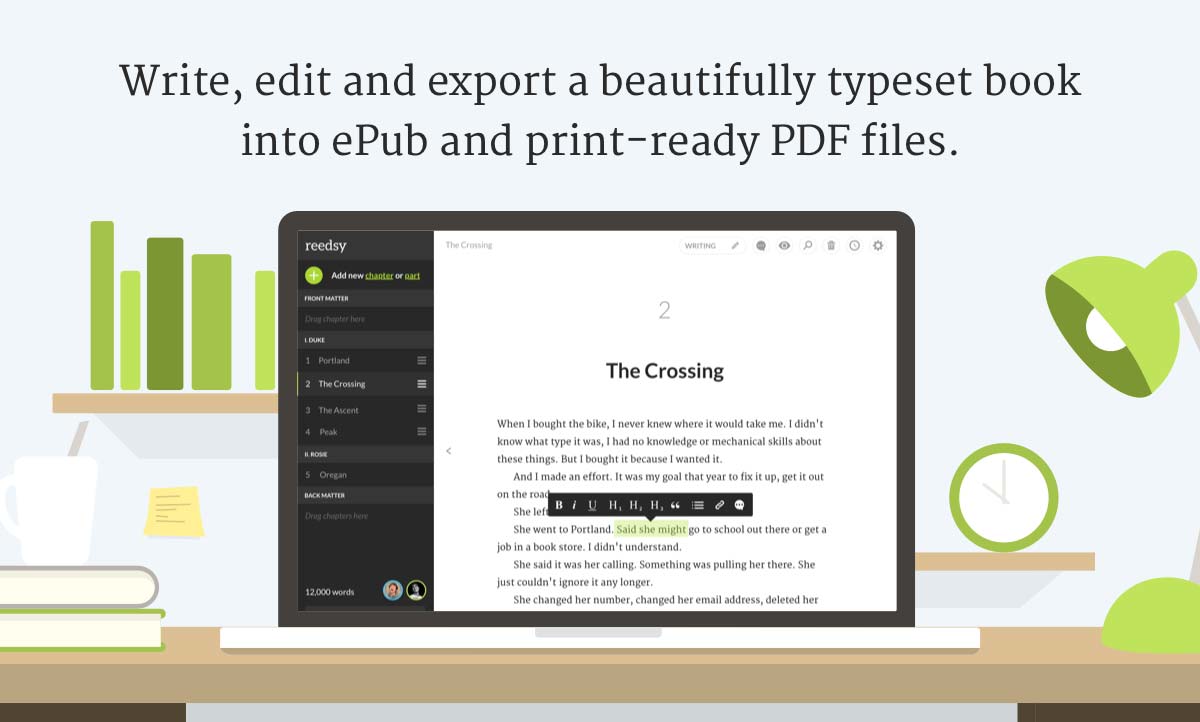 Many ebook creators like Reeedsy work with a network of professionals you can hire to get the job done. On your own, the Reedsy book editor is a free online tool that lets you output ebook files in Word format.
It allows you to create a book cover, table of contents and add content to your ebook.
What makes Reedsy different, and not just another free ebook creator?
Reedsy is high quality and will help you produce a number of publishing formats.
Best Default Word Processing software for ebook collaborators
Apple Pages
Apple pages has some free ebook templates or as a free tool you can create your own ebook template. You can export the final document to a word or pdf file.
Microsoft PowerPoint
Microsoft PowerPoint is a desktop presentation software that allows you to create and edit presentations.
In order to use this software, you need to have Microsoft Windows 10 or higher versions.
You can also use the Microsoft Office 365 subscription service which gives you access to more than 100 applications including Word, Excel and PowerPoint along with 1 TB of storage space in OneDrive online storage.
To create new presentations using PowerPoint:
Click on File menu option
Click New option from it
Select Presentation under General section In case you want to convert your existing presentation into PDF format then click on Save As option from File menu instead of selecting New from it
Book Creator for Chrome
Book Creator for Chrome is a free ebook creation software. It lets you create ebooks for Google Play, Kindle and the web.
You can also create ebooks for iPad and Android devices, as well as other devices like Nook or Sony Reader.
The application allows you to add images, audio recordings from MP3 files or voiceovers narrated by yourself, text formatting options such as bolding and underlining text; font size control; paragraph indentation; page layout options such as margins/spacing between paragraphs etc.; bookmarks to navigate through your ebook; hyperlinks within your ebook; highlighting words or phrases in different colors; adding videos from YouTube videos into an ebook (this feature requires an Adobe ID).
Adobe InDesign
Adobe InDesign is a desktop publishing software that helps you create beautiful publications, from simple flyers and posters to complex catalogs and magazines.
Adobe InDesign is a desktop publishing software that helps you create beautiful publications, from simple flyers and posters to complex catalogs and magazines.
It's one of the best e-book creation tools available today because it allows users to easily create high-quality content while simultaneously providing professional-looking layouts.
This feature makes it ideal for both small businesses who don't have access to design teams or freelancers who want to maintain control over their work but still rely on Adobe's industry expertise when creating their products.
MyEbookMaker
MyEbookMaker is a free ebook maker and PDF creator tool.
It's a cloud-based tool that can be used on any device, including smartphones, tablets, and computers.
It can be downloaded here: https://myebookmaker.com/.
MyEbookMaker makes it simple to create professional-looking ebooks with its easy drag-and-drop interface. It also has built-in templates which you can use to create your book in just minutes!
Kotobee Publisher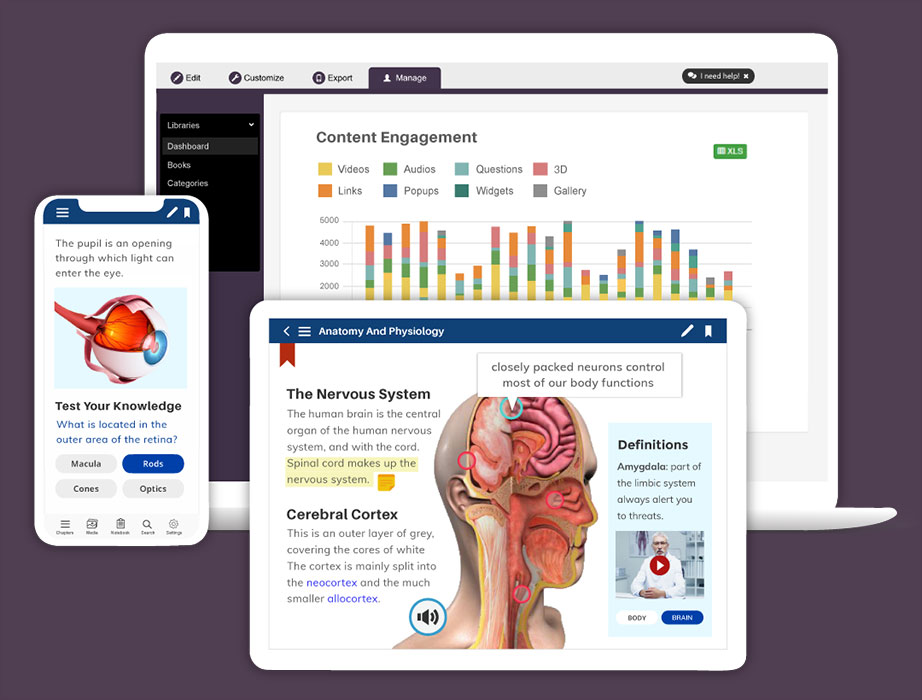 Kotobee publisher is a software for creating ebooks in various formats.
It is a desktop software and it is compatible with Mac and Windows operating systems.
It supports epub, pdf, mobi and azw3 formats. The tool has many options that help you create ebooks easily without any hassle.
Pressbooks
Pressbooks is a free and open-source publishing platform written in PHP.
It uses JavaScript and CSS for its user interface. Pressbooks supports a wide range of ebook formats, including EPUB2, EPUB3, HTML5, and PDF.
With Pressbooks you can:
Create an entire book with just one click
Export ebooks to multiple formats at once or export your content to PDF
Easily work on different platforms (Windows or Mac) without missing any changes made by your collaborators
Novlr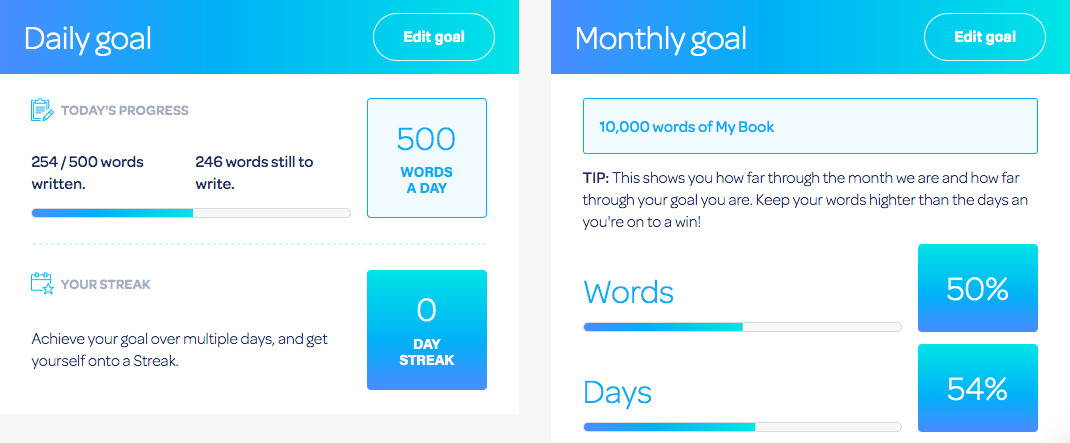 Novlr is a free ebook creation tool that you can use to make the most of your writing projects. Many ebook creator tools miss the mark when it comes to creating fiction.
With its intuitive interface and powerful features, Novlr makes it simple to create ebooks with no restrictions on the size or number of pages.
When you're ready to publish, it's as simple as exporting your finished work into a format that can be read by anyone who uses an electronic device.
If you're new to using Novlr, there are some things that you'll want to take a moment and make sure are set up correctly before getting started on any projects:
Make sure that you have the latest version of Adobe Creative Cloud installed on your computer
Create an account with Adobe CC (this will require providing them with payment information) but don't worry—you won't need this information again unless something goes wrong with the software or their servers get updated in some way!
There is also a free trial available for those who prefer not paying anything upfront (which we think is worth taking advantage of).
After setting these things up successfully, it's time for us both! Where do we start?
Kindle Create
Kindle Create is a free ebook creation tool that you can use to make ebooks for Kindle devices and apps.
It allows you to publish ebooks in a variety of formats, including AZW3, PDF, MOBI, and HTML.
Key Takeaway : Choose the best ebook creator that will help you create an ebook everyone will want to read and share! Whichever ebook creator tool you choose, make sure it gets the job done effectively and efficiently!
Keep in mind, the best ebook creator for you will depend on your needs and your budget.
We hope this article has given you a few ideas about what to look for and how to choose the right tool for the job.
Remember that it's not all about bells and whistles; sometimes, even the most basic tool can meet your needs perfectly to add to your ebook collection.
In Summary
We hope you found the best ebook creation software for your needs. Imagine how many products you can create with different strategies now.
In some cases, you may even use a hybrid. Perhaps you want to use Canva to design an ebook cover. You can transfer that directly into Apple Pages or Scrivener when you export as a pdf or other file.
Ebooks created with the right interactive ebook creator will sell better in today's digital market.
If you are creating your own online ebook store, seeking formatting software for work, or giving ebooks to clients, it is important they are made well.
Many writers, authors, and ebook creators know how important a new ebook is to adding value to their bottom line. Make sure you do not cut corners on this key area of online publishing.